What is « Du thé et un dragon »?
Created in March 2014, « Du thé et un dragon » is a French (Quebecer) blog that offers educational articles, reviews and inspiring texts on tea and the world of tea. It is managed by Rachel, a 40-something Montrealer, who shares her passion for this beverage with you. The blog was created to present her knowledge on the subject as well as her discoveries and tastings in the form of a website. It aims to reach both tea lovers and curious who want to know more about the subject. Note: the title in english is « a tea and a dragon ».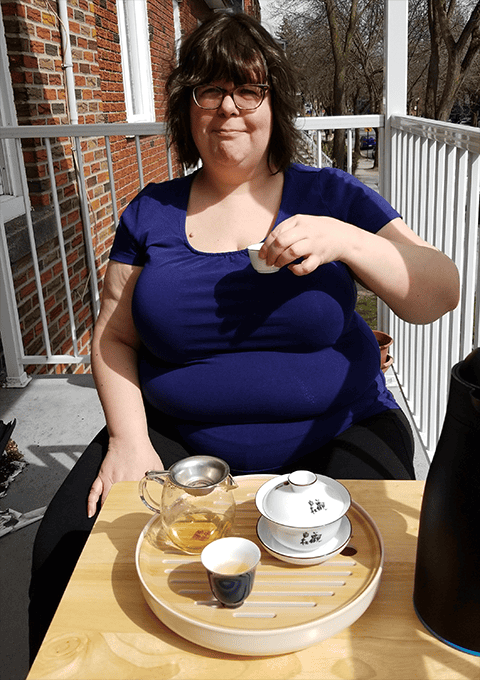 Who is the author?
Passionate about tea since 2006, my name is Rachel and I'm a Canadian in her forties. I live in Montreal with with my partner. Tea is part of my life and I drink it almost every day. Graduated in 2013 as a documentation technician, I use now my knowledge in research on tea. Also, I started to give workshops on the subject during my medieval activities (I'm a member of the Society of Creative Anachronim or SCA). When I'm not analyzing a tea or looking for tea informations, I enjoy listening to music and writing. I have also an interest for the textile arts, photography and talking with my friends.
Traduction?
I don't plan to translate my blog in English. I'm not perfectly bilingual and I don't have time to make this job. I'm alone to manage this site. If you want you can see my final rating on my Steepster account, but I'm not really active.
Reviews
Like I said at my F.A.Q. page, I'm not interested to receive money to write a review. I want to have this freedom to say my opinions. But, if you want to send me tea samples in exchange to write a review (in French of course), please read my « policy review » to know more.
Swaps
Note: for friends and contacts only.
I'm a fan of oolongs, whether it's more or less oxidized to very oxidized. I love this family of teas for the complexity it offers both taste and smell. I also like black teas but I prefer them softer (for example: Darjeeling). Recently, I (re)discovered japanese green teas, and even if I like sencha and gyokuro for the marine and vegetable notes, I like kamairicha and kabusecha even more. For puerh and aged teas, it's a family that I'm still developing. My partner loves these teas for their earthy tastes, but I go carefully! However, I admit that tastes change over time and that does not mean that I will not like them!
For flavored teas, I drink it from time to time. I like gourmet teas (chocolate, caramel, almond paste, ect.) and floral teas (not the flower that you can see inside a glass teapot; the tea with floral smell and taste). On the other hand, I don't really like fruity teas: I deplore their acidic tastes and very often there is hibiscus. Then a few times, I allow myself a chaï, but I go in moderation.
For those who want to do a « swap » with me: if you want that I try a tea that I have not tried and you're not sure if I'm going to like it (because, for example, I did not mention if I liked such taste), send me a message and it will be a pleasure to answer you. Note that I don't tolerate hibiscus and I hate smoked teas, the taste of chemical cherries and I'm not a fan of Earl Gray tea.